Feast on figs this week
It´s fig season, so here are some easy recipes to use up the glut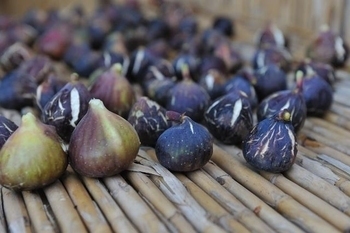 One of the greatest joys of Spanish summertime is the luxury of being able to walk out into the back garden and eat a sweet warm fig straight from the tree.
Figs have been a staple of the Mediterranean diet for thousands of years, the earliest evidence of our love for them dating back 11,400 years to the Israeli village of Gilgal 1, where Harvard University researchers discovered evidence that these were cultivated by the people who lived there all those years ago.
Interestingly, the scientists have discovered that the trees these first cultivated figs came from were sterile, so would have been propagated by cuttings, the first real evidence of gardening over 11,000 years ago, and here we are, still following the same basic techniques today.
Many of the great fig-ures of history ( sorry, that was bad....) have been fig fans, amongst them Cleopatra, reputedly her favourite fruit which she shared with Mark Anthony whilst drifting along the Nile fanned by slaves on a sultry night.....
The trees are groaning this year, so if inspiration is running out, here are a few suggestions. Please send through your own figgy specials to share, especially if you´ve got a great chutney recipe which uses figs as our own efforts have been disappointing.
Figs freeze very easily and quickly, and readers have said in the past that they freeze their figs now and defrost them to make chutney later when other vegetables and fruits are at their cheapest, draining off the water to gain a more substantial and less wet fig content.
If you´ve got any tips, please send them in.
Freezing figs.
Figs will freeze, but are always quite wet once defrosted, so ours always end up in sticky ginger fig and walnut pudding or in crumbles with other fruits, such as frozen fruits of the forest and apple with lots of cinnamon, mixed spice and walnuts crumbled into the topping.
To freeze, select fruits that are almost ripe, but not soft. We just cut in half and lay out on a tray or wire rack to freeze loose, then bag up once frozen, grabbing a loose handful when needed. As we have a chest freezer we cut a slice across the top part of a large water bottle and fill with the figs once frozen, which makes it easy to take a few for a crumble or mixed fruit pie.
Drying figs
Choose figs that are just coming up to ripe, not squishy ripe. Cut off tree to leave short stalk, then wash. Cut in half.
Create a rack to lay the figs on to dry in the sun which allows air to flow freely around the figs. Our old neighbours always used split bamboo spaced out a bit, but an oven rack works just as well. Lay on a layer of fine muslim or netting and lay the figs on this, cut side up. Cover to prevent flies reaching the figs and put out into the sun.
Once the cut side has dried, turn the figs and bring inside if the night is damp.
It can take a couple of weeks to completely dry the figs out, leaving them flexible but free of moisture. Either pack in non-airtight tubs, or seal in the same way as a jam, in an airtight environment - ie heat a jar up in the oven, pack with figs, layered with a little flavouring such as aniseed if you like it, and then seal.
Fig Recipes.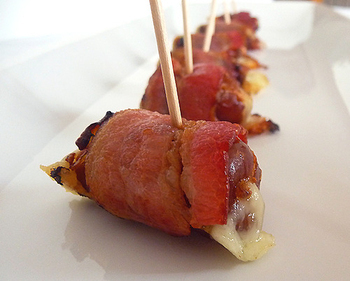 Figgy piggy backs.
Wrap half a fig with smoked bacon, skewer and roast on a baking tray until bacon is crisp and cooked.(180 degrees or under a grill)
Serve with freshy cut bread as a conversation stopping nibble, with salad leaves and dressing as a starter, or with pork chops, roasted pork or sausages for a fruity addition to spice up any porky lunch.
For an extra taste sensation, slip a piece of anchovy in the middle of the fig before baking - its amazing how well fish and figs work together.
This works just as well with prunes when figs are out of season.
An uncooked version is just as good, using fresh figs with very finely sliced parma ham, or because we´re in Spain, Jamón serrano.
Fig and Mozzarella salad with zingy dressing.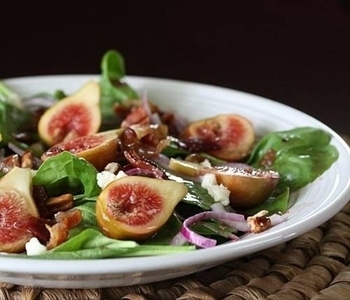 Figs and cheese are a great combination, and whilst most cheeses will do the job, creamy Mozzarella blends well to create a smooth, sweet salad, which can be spiced up with peppery leaves such as rocket, which is available sometimes in Mercadona ( or is incredibly easy to grow in a big pot once the weather cools down.).
Dressing,
4 tbsp balsamic vinegar
Zest and juice of 1 lemon
2 tbsp virgin olive oil
Chopped fresh mint
Salad base
Mixed salad leaves
Rocket
8 fat fresh figs
1 pack Mozzarella
Put dressing ingredients in an old jar and shake until well mixed. If you,re a sweet thing you can add a little honey to the dressing.
Create a bed of leaves, quarter the figs, dot with Mozzarella and drizzle with the dressing.
Mop up with crusty bread.
What could be easier.
Top tip
Figs and walnuts are great bed fellows, and blue cheeses and goats cheeses are surprisingly good with figs as well
Easy peasy figgy pud.
Choose 2 ripe figs per person.
Cut off stalk and slice a deep cross across the top , cutting to pretty much half way down the fig. Squeeze the lower base of the fig so that the top opens up slightly like an open flower.
Put a sliver of butter into the top, sprinkle with brown sugar and drizzle with a little brandy and a teaspoon of honey and sliced almonds before baking in a medium oven (or microwave) until soft.
Serve with a sinful amount of ice cream, and dont think about the calories.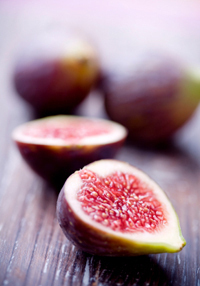 Figgy upside down pudding with cinnamon.
150g Butter
25g soft brown sugar
100g white sugar
2 eggs beaten, 175g self raising flour
1tsp cinnamon or half tsp mixed spice (your preference)
1 doz figs, halved
( Chopped orange zest to taste can be added to the cake mixture for a sexy zing if liked and ginger gives this a wicked tang)
Tin - 8 in greased round cake tin.
Lay figs across bottom and sides of tin, cut face down
Melt 25g butter and stir in brown sugar. Pour into base of tin onto figs.
Cream remaining butter and sugar until fluffy, gradually beat in eggs, fold in flour and spice. Spread over fig mix and bake at 180c/250F/Gas mk 4 for 1 hour or until centre springs back when pressed lightly with finger.
Leave to stand for 5 mins before turning out.
Pickled Figs, sent to us by Margaret Jolly last year
A great recipe for figs well worth doing.
60 figs
3 cups vinegar
1 tbspn whole allspice
5 cups sugar
1 tbspn whole cloves
2 sticks cinnamon
Pour boiling water over unpeeled figs. Let stand 5 minutes. Put 3 cups sugar and 8 cups water into saucepan.
Boil until sugar dissolves. Cool and add figs. Boil gently 30 minutes. Add remaining sugar, vinegar and spices
tied in a bag. Boil until figs are clear. Let stand 12-24 hours in a cool place. Heat to simmering. Pack in jars.
Process in water bath for 30 minutes.
(I made it for the first time this year and everybody who has tasted it reckons it is super.)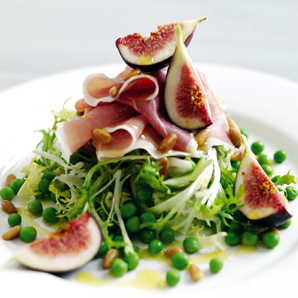 Well thats a few bits to tickle your tastebuds, just dont waste those figs. Actually, there are rumours that figs are good for other things than regular bowel action, maybe Cleopatra was onto something. If you dont believe her, why not take note of Edward Lear and what he had to say about the subject.
"There was an Old Person of Ischia,
Whose conduct grew friskier and friskier,
He danced hornpipes and jigs,
And ate thousands of figs,
That lively old person of Ischia.
Maybe the figs are what keep the spanish out at all those fiestas until 3am in the morning while were all flaked out in bed. Theres got to be something in this Mediterranean diet!
Send us your recipes to share.
article_detail
Contact Murcia Today: Editorial 966 260 896 / Office 968 018 268