ARCHIVED

- Mazarrón beaches, the Cañada de Gallego section, including Percheles beach.
Playas de Mazarrón, Percheles, Cobaticos,Cabezo de Pelea, and other beaches in Cañada de Gallego.
The beaches at Cañada de Gallego are frequently almost deserted, even during the peak summer season, the only real exception to this being Percheles, which is considered by some to be the most attractive of Mazarrón´s beaches.
The main reason for this is that the beaches lack facilities, and are a good distance away from any residential accommodation, so to get to them requires effort and a car.
These beaches are beautiful, but isolated, so care should be exercised when swimming. Although swimming close to the shore is considered safe, once out at sea currents can be strong in places, and attempt to pull bathers onto the rocks which surround these beaches, so be careful as there is no lifeguard cover on any of the more isolated beaches.
The link is for Percheles, right in the centre of the beaches. Click Playa de Percheles
Beaches accessed via Bolnuevo
The Cañada de Gallego beaches can be reached via the coastal track which runs along the headland from Bolnuevo, although this is bumpy and rough, so should not be undertaken by those with a nervous disposition or a low slung car, although the route passes some glorious wild and nudist beaches, as well as some strikingly individual countryside.
Alternatively, follow the N332, the old coast road between Mazarrón and Águilas, and follow the signs for Cañada de Gallego.
The most important beach, which is Percheles, is signposted, as is the beach of Calnegre, but for the remainder, it really is just a case of driving into the village and turning left towards the sea; any number of small roads through agricultural plantations will end up at the beach.

Series of long, thin beaches with mixture of sand and gravel
The beaches along this stretch of coastline almost blend one into another, and are all long, thin beaches, with a mixture of sand and gravel, an endless expanse of sea and pebbled sand.
They have little in the way of defined features, other than their sense of isolation.
The first beaches in the run which constitute Cañada de Gallego , the Playa Cabezo de Pelea and Playa Cobaticos, are each over 1 km long, and are extremely popular with wild campers, many camper vans congregating here during the autumn months. The Camino de Covaticos leads down to an area particularly well used by German camper vans.
The most popular beach is Percheles.
This is a glorious curving cove, with volcanic rock formations at either end, a harmonious space with palm trees and a grassy fringe, although can become fairly densely populated during the summer months.
It has it´s own extensive parking area.


Beaches in order - Mazarrón heading towards Águilas:
Playa Cabezo de Pelea, Ifre, Cañada de Gallego.
Length 1750 metres, width 18 metres, Low occupancy. Fine sand and gravel. Only acessible on foot, via unmade coastal track.




Playa Cobaticas, Ifre, Cañada de Gallego
Length 1km, width 30 metres. low occupancy, gravel and sand. Accessible from coastal track and via tomato greenhousing .
Playa de las Chapas, Ifre, Cañada de Gallego
300 metres long, by 10 metres wide, stoney beach with low occupancy.


Playa del Ballenato, Ifre, Cañada del Gallego
200 metres long, by 17 metres wide, sand and gravel, low occupancy beach .
The next three beaches are bays, Percheles reckoned by many to be the most beautiful beach in Mazarrón, a wide, curvaceous bay with naturally golden sand. Beautiful. These are accessed via the village of Cañadas de Gallego, and are signposted for Percheles.
Playa de Percheles, Ifre, Cañada de Gallego.
290 metres long, by 16 metres wide, grey sandy beach, high occupation
Playa de las Minas, Ifre, Cañadas de Gallego.
100 metres long by 14 metres wide. Grey sand, low occupancy.


Playa del Palomarico
Ifre-Cañada de Gallego- Mazarrón
90 metres long by 20 metres wide, this is a low occupancy beach with fine sand and a stone fringe.
Driving past Percheles around the headland, the road drops down again through tomato cultivation greenhouses to the coastroad leading to Calnegre, one long, glorious beach which switches municipalities half way along.
Playa Parazuelos
Ifre-Cañada de Gallego-Mazarrón
900 metres long by 26 metres wide, this is a high occupancy beach during the summer months with fine soft sand and pebbles.
Then just a few metres further, into Puntas de Calnegre.
Puntas de Calnegre beach (Lorca)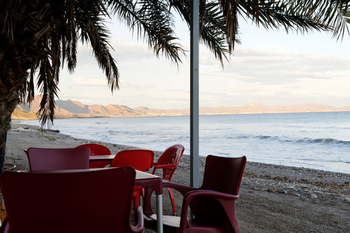 Puntas de Calnegre is Lorca´s only beach and is a charming and popular fishing village with restaurants right down on the sand, sadly earmarked for total demolition as a victim of the indiscriminate Ley de Costas which is destroying so many of the Region´s most characterful settings.
Popular with expats as a hidden menu del día option during the week and out of peak season, the restaurants are right down on the sand.
Contact Murcia Today: Editorial 966 260 896 / Office 968 018 268