Date Published: 27/03/2011
ARCHIVED

- Paramount presented to Spains top financiers and businesses today
Paramount Theme Park Murcia.
The Paramount Murcia theme park project received it´s first public airing today, presented to a gathering of some of the most important businessmen and financial institutions in Spain, at the forum, " Desayunos Autonómicos " hosted by the daily ABC.
President Valcárcel attended on behalf of the Region of Murcia, presenting the project to 150 attendees, including Bankers, Presidents of some of the biggest businesses in Spain, heads of financial institutions, diplomatic personnel and key political figures.
Economic projections for the project range way beyond what the implications are for on the door takings, as associated businesses and all the multiple ripples of employment and business opportunity which will be generated by the impact of this project have been calculated at 2,650 million euros annually, once the park is fully consolidated and operational.
Meanwhile, those on the ground who are nearest to the project are already discussing the practical implications of what this project will engender.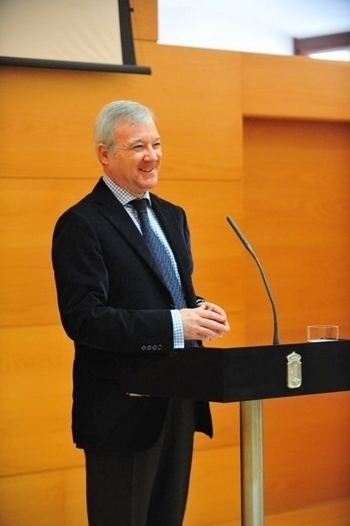 On Thursday the Mayor of Alhama de Murcia will present the convenio signed with Proyectos Emblemáticos Murcianos y Santa Mónica Financial to modify the Plan General de Ordenación to the ordinary Pleno to enable the necessary paperwork snowball to start rolling as the bureaucratic processes begin.
He also stated that he had been in contact with ADIF to discuss the question of a high speed train link station being constructed at Alhama to cope with the projected millions of visitors who it is anticipated, will visit the park one it is completed.
At the moment, Fomento ( the Institute of development) has still not made absolutely clear when the AVE connection from Murcia to Almeria will be built. At the moment the AVE is scheduled to arrive in Murcia Capital in 2014, but for the theme park and the new International Airport at Corvera, the important date will be the one which sees the stretch of track from Murcia heading across the region to Almeria coming into operation.
Alhama are now asking if the route can be adapted to include Alhama, so that the volumes of potential clients can easily reach the theme park from the main high speed networks which will carry potentially millions of visitors from along the Spanish coast.
The inauguration of the new terminal at El Altet last week and the desire of the Alicante government to attract 20 million visitors per year offers a wealth of opportunity for the theme park marketeers; the trick will be making it as easy as possible to reach the Region of Murcia from the airport.
The Mayor of Alhama was also quick to point out the necessity to plan for the arrival of a multinational theme park by considering the training needs of park employees and the importance of beginning to prepare the young people of Alhama now for the opportunities the jobs will create for them, language skills being essential in the modern jobs marketplace. " we´re talking to the institutes to see what formative courses can be run in relation to the practical needs of the future park, "he said.
The Mayor has also instigated talks with the Ministry of Development with reference to the modifications which will be required to the A7 Autovía del Mediterráneo and that of the Alhama-Cartagena Autovia.
The modifications to the Plan General of Alhama will be on display in about one and a half months time, once the pleno have considered all the modifications necessary.
Meanwhile Mazarrón have put out a press release following the official presentation of the Paramount project on Friday. The presentation was attended by Mayors from several of the municipalities bordering the Alhama de Murcia municipality, amongst the 100 or so dignitaries and businessmen who were invited to participate. Whilst we were all waiting for the presentation to start, the Mayor of Mazarrón went to the front of the presentation and congratulated Michael Bartok on the selection of Murcia for the project, the town hall press release saying that, "Mazarrón will be the beach of the Paramount park, and at only 15 minutes from Mazarrón will attract millions of visitors to the municipality, and will mark a stimulant in the economic and social development of the Mazarrón residents."
Fortunately the Mayor had taken along the council photographer to record the moment for Mazarrón residents.
The truth is that yes, all the municipalities surrounding this project will receive a financial stimulus, due not only to the jobs created during the construction phase, which are likely to number 10,000 but also the effect this is likely to have on the housing market around the area.
Already a wave of optimism is affecting property consultants in the area and all hopes are pinned on the successful hunt for investment, a hunt which began in earnest in Madrid at the first official presentation of the project today.
Original of Mazarrón press release, for the interest of Mazarrón residents
EL PROYECTO PARAMOUNT ATRAERÁ A MILLONES DE VISITANTES HASTA MAZARRÓN
La ubicación de este parque temático en Alhama de Murcia convierte a Mazarrón en el municipio con costa más cercano
Mazarrón, 25-marzo-2011.- Esta mañana el alcalde de Mazarrón, Francisco Blaya, ha asistido al acto de presentación del primer parque temático de la multinacional norteamericana Paramount en Europa, presidido por el jefe del Ejecutivo de la Comunidad, Ramón Luis Valcárcel, acompañado por el vicepresidente ejecutivo de Paramount, Michael Bartok, y del Presidente de Proyectos Emblemáticos Murcianos, Jesús Samper.
En su alocución, Valcárcel ha anticipado en referencia al proyecto que "el camino es duro, pero la meta es segura". El presidente regional ha explicado que cuando vieron la posibilidad de captar una inversión tan importante, se lanzaron "con el apoyo y entusiasmo de unos y las dudas de otros. En tiempos de crisis lo que no se puede hacer es estarse quieto, y eso es lo que hemos estado haciendo", ha añadido.
Blaya ha tenido la oportunidad de saludar a Michael Bartok y a Jesús Samper, a quienes ha felicitado por el proyecto, resaltando que "Mazarrón será la playa del parque Paramount, a tan sólo quince minutos, lo que atraerá a millones de visitantes hasta el municipio y marcará un revulsivo en el desarrollo económico y social de los mazarroneros".
La multinacional cinematográfica Paramount Pictures se ha comprometido a ofrecer "Un mundo de emoción" para este su primer proyecto de parque temático en Europa, que tiene previsto abrir en 2015 en la región de Murcia con una oferta de ocio de 158 hectáreas inspiradas en las míticas Star Treck, Titanic o Mision Imposible.
El proyecto Paramount, que se presentará a partir de ahora a inversores internacionales, tiene una primera zona de parque dividido en distintas áreas temáticas, y una segunda de mucha mayor dimensión, denominada "Lifestyle center", en la que habrá dos hoteles de 5 estrellas, tres de 4 y otros tantos de 3.
Junto a ellos, se construirá un centro comercial con tiendas temáticas, restaurantes, bares y discotecas; un área de negocios y conferencias con la sala de reuniones de mayor aforo de la región de Murcia (más de 3.000 butacas) y un auditorio para conciertos al aire libre para 15.000 espectadores.
Jesús Samper, consejero delegado de Proyectos Emblemáticos, la empresa constituida junto al Gobierno de Murcia para la puesta en marcha del proyecto, ha explicado que el parque temático generará 10.000 empleos directos en su construcción, y "al menos" otro medio millar de puestos de trabajo para su explotación.
Proyectos Emblemáticos y Paramount Pictures han firmado hoy también el contrato de licencia para la explotación de la marca durante 30 años, prorrogables por un periodo no determinado.
En su breve intervención, Michael Bartok ha subrayado que España es un mercado "clave" para su compañía, ha asegurado que el parque será un destino turístico en sí mismo, y ha valorado la elección de Murcia porque "hay 300 días de sol al año".
Contact Murcia Today: Editorial 966 260 896 / Office 968 018 268