Date Published: 23/06/2010
Politicians and unions wade into the arguments about whether San Javier will close when Corvera opens
ARCHIVED ARTICLE
But Ryanair knows exactly what to do- theyve signed a new agreement to promote Alicante Airport
2010-06-24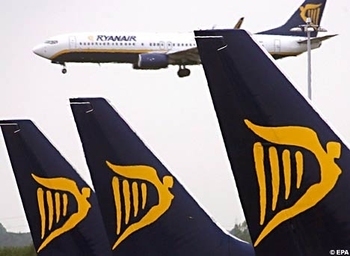 Sometimes, just sometimes, it feels as though theres a crystal ball embedded in the keyboard sitting on this office desk.
Yesterday we posted a story after looking at the air traffic figures querying whether there actually would be enough air traffic to sustain two airports, and exactly where the Region of Murcia envisaged one and a half million tourists were going to come from. We also highlighted the fact that Alicante is increasing its traffic, whilst that of San Javier is diminishing and speculated as to whether this region was working hard enough to attract tourism revenue.
Then today, a big debate blows up between the businessmen and politicians of the region over whether it is actually feasible to operate both airports and the Valencian government announces it has done a deal with the Ryanair to promote Alicante airport.
Interesting.
Aena, who operate San Javier appear to have no intention of bailing out, and are continuing to invest, with the opening of a second runway due to take place soon, although one of the Spanish press reports today that sources within the Ministry for transport say that Aena is strengthening its operations within Alicante ready to focus efforts on attracting traffic through there, when Corvera opens. This would appear to be born out by the press release from Valencia about Ryanair.
Today there seems to suddenly be a consensus of opinion that once Corvera is open, San Javier will be forced to close, and handed back to the military completely, although the regional government stress that this decision will not be made by them, only by the businesses involved in running the airports, obviously depending on the volumes of visitors and the costs of operating the airports.
Jose Ballesta, Concejal for infrastructure, said that, "reality will impose itself where it will, the businesses and the public will decide.The government wont make the decision if San Javier is to close to public transport, that will be dictated by the markets. The new airport at Corvera will offer flights 24 hours a day, something that San Javier is unable to do because of its military status, and its situated in the middle of the Region, which gives it better transport links- including railway links."
The PSOE leader said it would be a "ruin" to have two airports operating. He firmly believes that the debate should be bought to the table for both sides to reach an agreement once the new airport is constructed, in order to avoid a farsical situation whereby two airports limp along in a state of semi-solvency.
The Croem secretary general believes that Murcia needs an international airport without the conditions of San Javier, which doesnt actually fulfill the regions needs. His concern is for the jobs of those employed currently at San Javier, as should the existing level of traffic be shared between the two airports, neither will be viable and jobs will be at risk.
The president of the businesses association is in no doubt that it is not viable to keep two airports open. He firmly believes San Javier should close and all traffic be diverted to Corvera, which gives a better option for structured development.
Who will bear the cost of these relocations is not clear, although it does appear that this question has not been raised at the negotiating tables at this point in time.
So theres the official response to that question then: nobody has planned for what will happen when the new airport opens. There is NO plan in place for whether San Javier will close, its a question of waiting to see what happens once Corvera is open.
All the talk of new jobs is a load of hot air, as one opens, another will probably have to close, and all the money pumped into San Javier will have been wasted.
People who bought houses to be a taxi ride away from the airport will find the ride costing a little more than anticipated and the whole thing is going to be an unholy mess once the new airport finally opens, although it is now being hinted that this will not be until early 2012.
One person, however, who seems to have detected which way the wind is blowing, is love him or hate him, but youve got to respect him, the boss of Ryanair.
Theyve just signed a convenio of co-marketing promotion worth 1.6 million euros with the Valencian government, each putting 800,000 euros into the pot.
The money will be destined to promoting Valencia as a tourist destination, promoting Alicante, Castellon and Valencia, focusing on the markets in the UK, Germany, Italy, Norway, Ireland and Poland. The Uk campaign will focus on the phrase " I need Spain" ( seems strange, it could be said that we desperately need the tourism revenue from the UK, not the other way around, ) whilst the Valencian campaign says, " The community of Valencia, gives you everything. "
Valencia is fighting hard for its share of tourism revenue. El Altet is due to open its third terminal this year, with a further 40 gates, which will increase its passenger capacity from 12 million to 20 million passengers a year.
Ryanair is currently its largest UK lowcost airline, and brought just under 2.5 million passengers into Alicante last year, but now plans to add 2 new planes and 10 new routes to its existing operations, opening its 43rd base once the new terminal opens. This will open up new routes to Fuerteventura, Ibiza, Marseille, Marrakech, Munich West, Palma de Mallorca, Paris, Santiago de Compostela, Trieste and Seville, which will give it 2 million passengers a year more.
It would appear that Murcia needs to decide where its priorities lie and stop thinking that tourists will automatically choose this area just because they have a new airport. Theres a lot at stake, Murcia has already lost 15% off the arrivals figures this year and Alicante will be looking for a further 8 million passengers for itsnew terminal which will be open earlier than the new airport at Corvera.
Its going to be a difficult summer in the tourist trade, Murcias big market, the Spanish from Madrid, tightening their belts and taking bocadillos to the beach instead of eating out twice a day and booking shorter lets.
Time to focus on exactly where the money is coming from, stop taking it for granted, and invest in tourism. Otherwise the honey making bees will all be heading for the swish new hive down the road.
Contact Murcia Today: Editorial 966 260 896 / Office 968 018 268