Date Published: 20/09/2010
ARCHIVED

- Nasciturus, welcoming the next generation who will perpetuate these traditions
Cartagena, Romans and Carthaginians, Nasciturus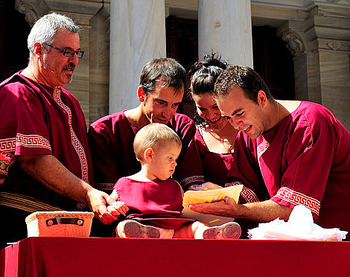 If you want to feel what happened yesterday, open a duplicate of this page and press this link whilst you read the story and then you were there.Click, Being there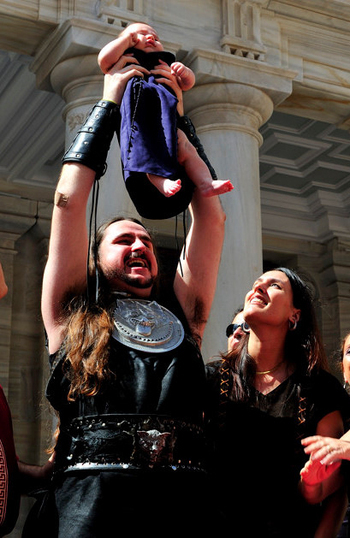 Yesterday an act which defines the identity of the Region took place, as part of the Romans and Carthaginians celebrations in Cartagena.
Spanish people are always astonished when I explain that in the UK we dont have Semana Santa, tapas, Cofradias, Penas or fiestas such as these, that we dont dress up en-masse and parade through the streets, build mock encampments and join together with our whole families dressed as Moors, Roman soldiers, Christian Knights, Berber Pirates or belly dancers.
No parades with the patrona of the town, no romerias, no virgins travelling from one church to the other, no bull running and wine horses, no local fiestas?
So when do you have your local carnivals then?
What????? You dont have carnivals?????
What do you do in February if you dont have carnivals?????
We do have a village fete in some villages, and there are re-enactment societies and clubs, but we dont grow up belonging to a legion from birth or a Cofradia, part of a structure which binds us to our cities and celebrations in the way they do here, defining our lives and loyalties, welcoming us to their tribe and social unit.
And thats what we witnessed today, the Nasciturus.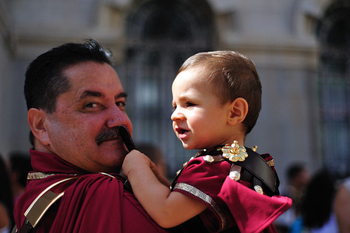 In this event, the new additions to the families who participate in the Romans and Carthaginians are presented to the City, and whilst some are young children, many are just babes in arms, yet already dressed in the full uniform of their legion, wearing the colours they will bear throughout their lives.
They are literally born into a particular allegiance, an allegiance which will form their social structure until they are old enough to maybe marry a legionnaire from a different legion and bring their own babies into a different group, but until then will work with their social group to continue the traditions of these fiestas.
Its humbling to participate in these fiestas, knowing that these are paid for by the people who participate in them, who work all year, together, as a whole to finance these events. Participation in the fundraising is as much a part of belonging as the event itself, and the year is filled with sociable community activities which bind the city together in a manner which has long since disappeared in our own culture.
In this ceremony, the family and parents of the new member of the tribe are welcomed onto the stage, the air filled with incense and smoke from the sacred fires, set in front of the Palacio Consistorial, complete with its high stone columns and imposing Romanesque fachade.
Each child makes a handprint on a certificate and is officially welcomed into the fold, the stirring and heartwarming music of enya drawing in the onlookers, wrapping them all up into a warm envelope of welcome for the child, then the words ring out, " Father, present your child to the city of Rome, " and the father lifts the baby high above his head, proudly displaying his offspring to the city for its approval.
Each presentation is greeted by the applause of welcome from the crowd, and the family present gifts to the onlookers, which in this case is a shower of golden sweets, thrown to the children who scrabble around on the floor, snatching up the shining wrappers, which they stuff into pouches and pockets, while the adults offer a basket of fruit, to be distributed amongst the needy after the service.
Its a heartwarming welcome for the new recruits, and a moving symbol of the spirit of togetherness which binds this society, engendering pride, belonging and ownership.
ts a picture which weve witnessed throughout the region, miniature moors and Christians participating in parades before they can even walk, pushchairs in carnivals resplendent with gold brocade and feathers, and miniature roman soldiers with perfect armour and rippling cloaks, proudly held in the arms of their fathers as they share a tapas after the parade with fellow legionnaires.
And did you realise you could be part of this too?
We met a group of Scottish bagpipers in the Murcia Moors and Christians Parade, who live here and participate in fiestas along the coast. There are ex-pats out there building go-karts to take part in death defying road races, slurping caldo on the beach, rampaging through the streets dressed as berber pirates and this week well be photographing some people who you possibly know, and used to think were ordinary retired ex-pats living a tranquil life in the country, but who will soon be revealed as fearless soldiers and shameless camp followers, participating in this Romans and Carthaginians fiesta.
Keep an eye out in those parades this week and look carefully at those seasoned soldiers marching past with their chests in the air and cloak slung at a rakish angle, it may be the bloke who flogged you a raffle ticket at the charity do last Friday night.
And if you want to join in, theyre looking for new members, and you could be marching with him in the parade next year......
What would the grandchildren have to say about that!
I
Contact Murcia Today: Editorial 966 260 896 / Office 968 018 268